The Road to Happy
It's a tough business being a kid. You have very little freedom, no money, and no clue. It's even harder being a teenager – inching closer to a scary-but-thrilling adult realm that's still just out of reach. Who will you be? How will you get there? Are you prepared? Who will show you the way? If you were like me, you also wondered, "Will I still adore the Smashing Pumpkins when I grow up?" Spoiler alert: I totally do.
Every adult loves to ask kids, "What do you want to be when you grow up?" It's a question kids hate as much as, "How's school?" After flipping through the limited catalog of career options in my mind (teacher, nurse, actress, veterinarian?), I finally found my answer: "Happy. I want to be happy when I grow up." As a teen, I hadn't begun to dip my toe into the sea of possibilities that awaited me, so I didn't want to limit myself. Then again, I had no idea where to begin my quest for this elusive thing called happy, and high school was no help. If someone had told me there are hundreds of career paths my love of writing could lead me down – other than "author" – or better yet, shown me, my little teen heart would have exploded. But, since I couldn't see it, I couldn't dream it for myself.
Enter Junior Achievement of Alabama – a nonprofit group dedicated to inspiring and preparing young people to succeed in the global economy. In other words, helping teens conceptualize their future happy and guiding them on their journey. Junior Achievement recently launched a job shadow initiative to get hundreds of students out of the classroom and into the workforce to see career opportunities and learn useful skills – like dressing professionally, presenting, and working as a team – in a real-life setting. I can't help but wonder how job shadowing could have better prepared me for what we Millennials call "adulting."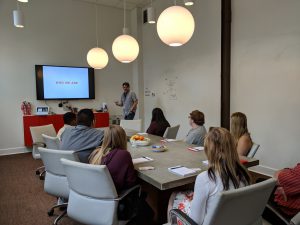 At Cayenne, there's something we call Fire in the Belly, and it's something we believe every child is born with. We see creativity as an energy fueled by a desire, and people who have F.I.T.B. are always hungry to learn more, push themselves farther, and dream bigger. It's why we believe in the power of fostering creativity in youth, and it's why we recently opened our doors to host seven Junior Achievement students from The Day Program for Job Shadow Day.
We gave them the grand Cayenne tour (where they were greeted by all the office dogs), introduced them to our team, treated them to lunch, then let them experience a day in the life working at a creative agency. The students worked in groups to take a new soda product from concept to creation, from writing the creative brief, to designing a logo, strategizing the marketing plan, and, of course, presenting to the "client." Dan Monroe did a great job as "client," if anyone is hiring.
The best part of the day? Hearing about the students' experiences. Of course, our team gained just as much inspiration as the students that day. We were reminded what it's like to be a kid, how everyone needs help moving along this journey called life, and why we wake up with a burning F.I.T.B. to do what we do each day. In closing, I'll leave you with what some of the students shared about their time at Cayenne: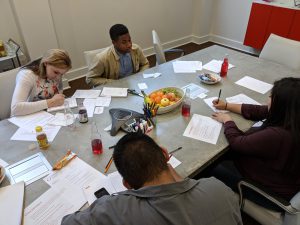 "The most important thing I learned at Cayenne Creative was how to work and correspond with others. I learned how to be open and willing to listen to other people's ideas while expressing my ideas. I also learned how to communicate with a client and negotiate with them on how to make their product more interesting as well as incorporating what they want in the advertisement" – Alex
"We got to hear some of the stories on how some of the employees got their position which brightened my future and gave me hope that I could do the same and be successful in life as well" – Justin
Interested in opening your business to Junior Achievement job shadowing? Reach out to get involved. The folks at Junior Achievement make it easy to coordinate, and you'll enjoy the satisfaction of knowing you played a role in helping local students discover new paths and possibilities for a bright, happy future.