a p p for the a.d.d.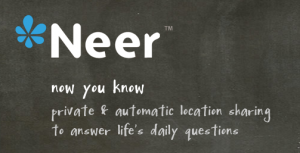 More than once, I've told a young art director or copywriter, eagerly showing their book, ready to conquer the world, "Look, you're about to entire and entire industry run mostly by people with A.D.D." It's true. That art director might have a bangup book. But if you don't need an art director at the time, you won't remember them a year later when you do. So, the moral of the story for the young, starry-eyed creative person, was: keep pounding the leather.
One day you'll walk into a good shop at exactly the right time, and they'll snap you up like a carp eats peanut butter.
All of this is a roundabout way of discussing this cool new app that's perfect for all of us forgetful creative types. Neer is a geotargeting reminder service. On you way home contemplating that concept for Naval Jelly you just haven't quite nailed… driving right by the store where you were supposed to pick up a case of Pedialyte… Neer pops up to remind you. Very cool. On the spicy side: perfect app for us A.D.D. types. On the bland side: won't work if you're still riding a 3G. Only works on iPhone 4.
Oh, yeah… also on the bland side: this app probably won't help starry-eyed creatives land that plum job.
Mashable story: http://on.mash.to/gsoj1C
– Monroe
Related articles